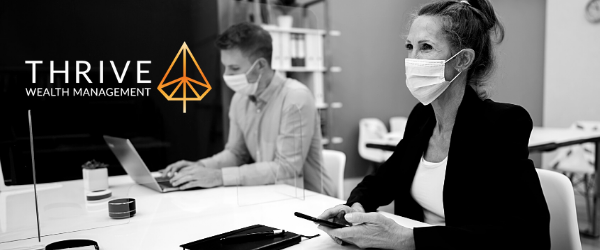 Masks Are required in all Locations
---
Following the guidelines set by the Saskatchewan Health Authority, masks will be mandatory in all our locations effective Nov. 19 .
If visiting one of our locations, we ask you to wear a mask and if you don't have a mask, we'll gladly supply you with one. If you cannot wear a mask for any reason, please call us first at 1-833-5THRIVE, or contact us below. As always we are happy to book virtual meetings with you. To connect with a team member directly visit: www.thrivewealth.ca/meet-the-team.
We're committed to safely serving you
Throughout the COVID-19 pandemic we have followed the advice of the Government of Saskatchewan to ensure we are able to maintain access for our clients, while doing our part to reduce the spread. We thank you for your flexibility as we evolved and continue to evolve our services to protect the health and financial well-being of our clients and communities.
---
If you are sick, have been in close contact with someone who has tested positive with COVID-19, you or someone in your household is waiting on test results, or you have travelled internationally, including the United States, in the past 14 days, please do not visit a branch until it is safe to do so.
CONTACT US: